Terania Rainforest Publishing Image Library ~
photos by Hugh Nicholson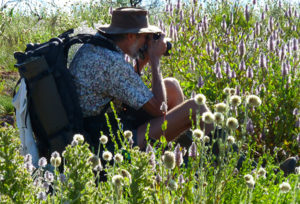 Hugh Nicholson's photographs have appeared in many academic and popular books, journals and magazines in Australia, Japan, Germany, Great Britain and the USA.
Apart from producing the photographs for the six books, Australian Rainforest Plants I-VI, produced with his wife Nan, he has provided identification photos for the four volumes of the Flora of New South Wales, and the CD-ROM The Families of Flowering Plants in Australia.
For the last 13 years he has been collecting photos of all rainforest trees, shrubs and vines from the tropic at Rockhampton to southern Victoria and 12,000 of these are included in the digital identification key USB Rainforest Plants of Australia.
His photos have been used by the Royal Botanic Gardens, Kew and the National Herbarium Nederland, Leiden in their Interactive Key to Malesian Seed Plants.
Hugh has an extensive library of photographs of plants (especially in rainforest), vegetation communities and landscapes from Australia and overseas, ranging from extreme close-ups to aerial photography. His plant photos concentrate on illustrating all the features essential for identification, whilst emphasizing the innate beauty of the plant. Supporting herbarium specimens have been collected for many of the photos.
Prices vary according to the proposed use, the size of the photograph, and its position in the publication. Non-profit organisations are charged less than commercial, academic or government organisations. Generally, a medium-sized photo in a book, magazine or website will be charged at $100 plus GST.
The images displayed on the following pages are only a small sample of the images available in our library. Please ask if you are looking for other features of a plant. All images are copyright and may not be used without permission.
Feel free to email a request for any common or obscure subject.